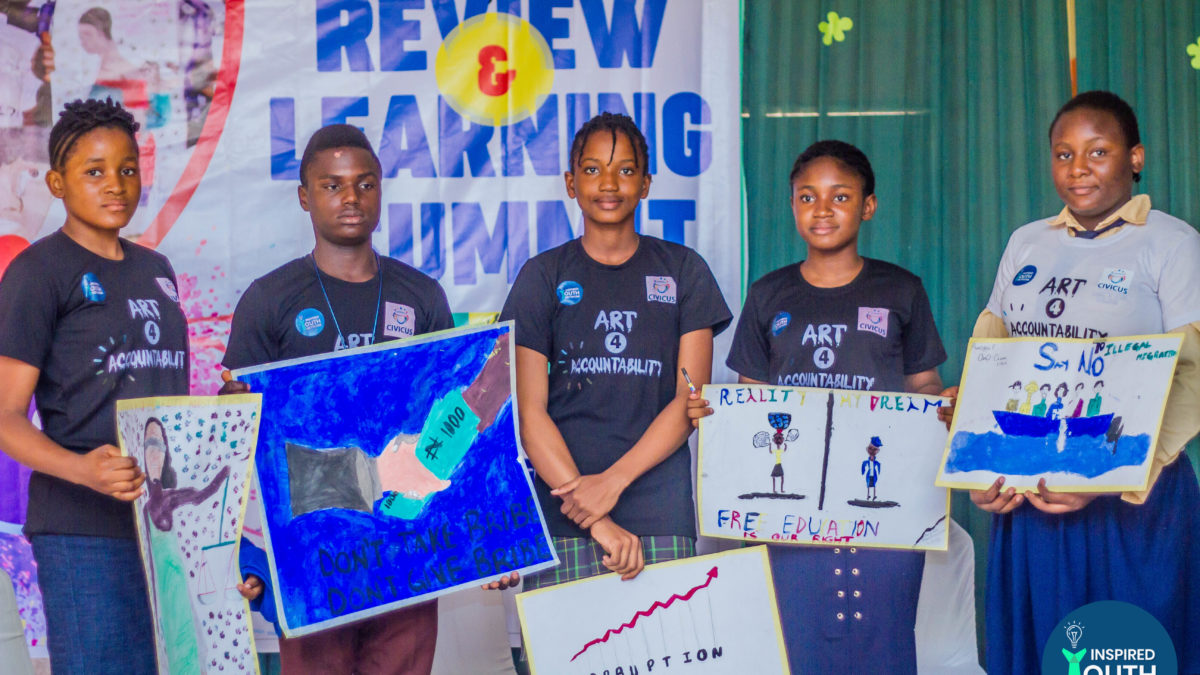 Inspired Youth Network holds Project Review and Learning Summit in Lagos.
Review and Learning Summit was organized to create a platform for Account Art project beneficiaries to learn, share experience and engage government officials, civil society organizations, media groups, art societies and education stakeholders on accountability and good governance through art, while the feedback were received from the various stakeholders at the summit.
The summit was attended by project beneficiaries and other stakeholders from government institutions, civil society organizations (CSOs), media groups, artists, teachers and students. The government institutions in attendance are the Independent Corrupt Practices and other related offences Commission (ICPC) and Kosofe Local Government Parliament. CSOs represented are Youth Alive Foundation, Youth Leadership Initiative for Social Justice (YLISJ), Youth Agenda Initiatives, Complete Knowledge Foundation and Sisters Arts Society. Media groups in attendance are Galaxy TV and Yossy Info. The art groups were represented by Brother Art Productions. The schools in attendance include Gulf Flower High School, Marigold College, PrinceWay Excellent College, Intel Westend College and Janet and John College.
The first keynote address was delivered by the Independent Corrupt Practices and other related offences Commission (ICPC), an agency of the government of Nigeria with the mandate to prohibit and prescribe punishment for corrupt practices and other related offences. The ICPC represented by Mrs. Ade-Adams Oluwaseyi who shared the works of ICPC in supporting young people to promote accountability. She mentioned that the ICPC has created the Students' Anti-Corruption Vanguard (SAV) across schools in Lagos and the ICPC is willing to partner with CSOs like Inspired Youth Network to engage members of the Vanguard to use art for promoting accountability.
The second key note address was delivered by Youth Alive Foundation (YAF), an organization that empowers young people to raise their voice against corruption. The 5 members of Youth Alive Foundation team in attendance was led by the Programmes Coordinator, Chamberlain Etukudoh and the address was delivered by the Coordinator of the YAF's Integrity Club, Faith Gimba who expressed her amazement with the innovation and creativity of the Account Art project. She expressed the willingness of YAF to adopt such model in empowering members of YAF Integrity Club, through which children of secondary schools have been trained to become advocates of integrity.
20 project beneficiaries from 5 schools shared their learning experiences on the project and there was an exhibition for beneficiaries to showcase their artworks promoting accountability and good governance. There was also a panel session where 5 project beneficiaries from 5 schools discussed the role of young people in promoting accountability. Some of the quotes from the beneficiaries include: "When they (Inspired Youth Network team) came to our school in August to train us, I didn't want to attend because I thought they will just group us and talk about corruption. When they started the painting class, I was very happy because it was an opportunity for me to express Nigeria problem with art" – Chibunna, Gulf Flower High School.
"The court is the last hope of the common man, but that is not in Nigeria because judges collect bribe from rich people and they don't allow justice to prevail" – Akinbanjo Olamide, PrinceWay Excellent College
"Education is a right. Education should be made free for children. Children from poor homes cannot afford the cost of education. Government leaders should stop using education fund for personal use." – Tony Dabere Ujah, Gulf Flower High School.
There was a panel session with panelists from Youth Leadership for Social Justice, Independent Corrupt Practices and other related offences Commission, Brother Arts Production, Kosofe Local Government Parliament and Marigold College where they discussed the theme "education, arts and accountability". They also shared their experiences and inspired participants to take civic actions in their community. Speaking during the panel session, a member of the Kosofe Local Government Parliament, Hon. Prince Kehinde representing Oworoshoki (Account Art project host community) where over 80 percent of the project beneficiaries resides, said that he would be working with Inspired Youth Network to replicate the Account Art project in primary schools in Oworoshoki to enable children of school age to take civic actions through arts.